Cannabis and Coronavirus - What Cannabis Users Need to Know
March 16 2020 – Team MindFuel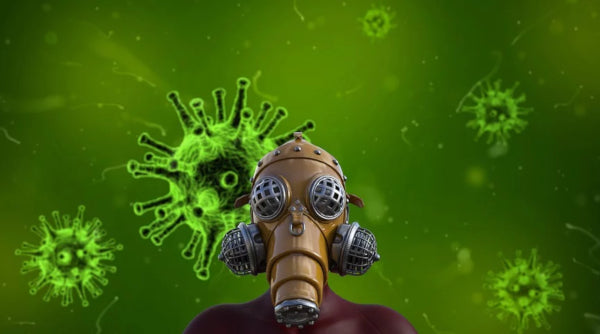 The global concern over the novel coronavirus known as COVID-19 has many people taking precautions against catching the virus. This article is in line with the Ministry of Health's harm reduction policy and is not intended to encourage illegal activity. Rather we are trying to reduce the harm of anyone already consuming cannabis regardless of the law. The following is what we know about cannabis and COVID-19.
How to Stay Healthy During the Coronavirus Pandemic
Stop sharing joints, blunts, cones and wraps - This is vital. While New Zealand may not have community transmission of COVID-19 right now, stamping out the sharing of joints now will help stop the virus spreading here and help keep you safe.
Stop sharing pipes, bongs and other cannabis utensils - While these items are not absorbent like joints and wraps and can be technically be cleaned or covered with a 'bong condom', our advise is not to risk it. Get your own piece and ensure only you use it. If you must insist on sharing your cannabis smoking piece with your partner, use a 'bong condom' to help minimize the risk.
Wash your hands frequently with soap for at least 20 seconds. Besides washing hands before eating or touching face, be sure to also wash hands before cannabis consumption or handling of utensils.
Avoid anyone who is showing any symptoms such as cough, cold, flu or fever.  Especially avoid sharing Cannabis utensils with these people.
Stop shaking hands and hugging. Consider a nod, a Namaste or a foot-shake  instead.
Avoid touching your face, especially mouth, nose or eyes unless you have washed your hands.
Avoid frequently touched public places such as hand rails, door handles, taps and eftpos machines. If you do need to touch these things, be mindful of washing your hands afterward, especially before eating, consuming cannabis, touching cannabis utensils or touching your face.
Practice social distancing now - Avoid large gatherings of people and confined public spaces including large group cannabis sessions. Where possible try to keep a distance of 2 meters from others.
Consider switching to a vaporizer to keep your lungs healthy.
If you do continue to use a bong, be sure to clean it and change water frequently.
Maintain good general health and good immunity by ensuring a healthy varied natural diet, plenty of water, sunshine, daily exercise and 8 hours of sleep.
Reduce stress where possible as well as processed foods, alcohol and sugary drinks.
Research and consider herbs and supplements that may support the immune system and good general health. Popular choices include Cannabis and CBD (prescription required), Echinacea, Kratom (prescription required), Kra thum Khok, Rosemary and Vitamin C.
Can I use cannabis to prevent or cure COVID-19?
Do not buy into conspiracy theories or anyone claiming any herb will prevent or cure COVID-19. While Cannabis is a well known cure-all that may help fight many super-bugs, the reality is that we have not had the time to do the research on the relationship between cannabis and COVID-19.
What about using cannabis as treatment for COVID-19?
Many cannabis consumers report that cannabis helps to treat or at least minimize many of the symptoms of general colds or flu and use it as a treatment for such. With COVID-19 it is still to early to know yet, however while there is no evidence to show cannabis helps, there is at the same time no evidence to show it does any harm either. At the very leased it will certainly help with the boredom of self isolation and likely minimize some of the general symptoms. For the time being it appears cannabis patients and recreational users can continue to use cannabis as normal, however our advise is proceed with caution:
Avoid Smoking - Because COVID-19 is a serious respiratory disease, we do not recommend filling your lungs up with smoke.
Instead Use a vaporizer - By using a vaporizer instead of smoking you can get the medicinal properties of cannabis right down into your lungs where the infection is, without any of the irritating properties of smoke.
Edibles (medibles) may be an option if a vaporizer is not available, however a vaporizer is likely preferable. Or combine both vaping and eating by utilizing ABV (already been vaped).
Only use premium grade cannabis that is free of mold. If using extracts, ensure they are made from premium grade cannabis and are free of solvent residues.
Be mindful of cannabis use and if you experience any negative side effects reduce or discontinue use.
Let your doctor know you are using cannabis as treatment and ask for a prescription for CBD or medicinal cannabis.
Be careful not to share your cannabis or utensils with anyone else.
Because smoking or vaping cannabis may result in coughing, be careful where you consume cannabis so as not to cough where others may be exposed. Also be mindful of second hand smoke or vapor.
What about supply issues with aromatherapy vaporizers and other harm reduction equipment?
It is unfortunate and may yet turn out to be tragic that customs are currently illegally seizing vaporizers in New Zealand. The current prohibition of cannabis utensils does not catch vaporizers in any way shape or form, however customs are pretending they are illegal anyway and seizing them as bongs.
Because vaporizers are already 100% legal in New Zealand we will continue to import and supply them regardless, however our vaporizer supplies are somewhat limited for the time being. Feel free to email ahead if you need anything and we will do our best to help.
We strongly urge the Ministry of Health to stand up and protect the health of the New Zealand cannabis community by directing customs to stop seizing vaporizers immediately so as to help prevent the spread of COVID-19. No laws need to change, just tell customs to stick to the laws we already have in place.
While parts of bongs are not allowed to be imported currently under MODA, we also suggest an exception is is made for at least 'bong condoms', however it would be ideal to just legalize all bongs and replacement parts at the same time so as to allow access to clean, new harm reduction equipment and to encourage cannabis users to stop sharing joints and utensils during the COVID-19 pandemic.