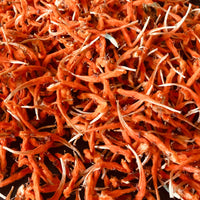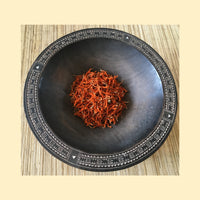 Wild Dagga Petals (Leonotis leonurus) Organic Lion's Tail Dried Flower Petals
Regular Price

$10.00

Sale Price

$10.00

Regular Price

Unit Price

per
Tax included.
Shipping
calculated at checkout.
This high-grade Wild Dagga is grown on a small organic farm in New Zealand
Common Name: Wild Dagga, Lion's Tail, Dagga, Wild Hemp, Wild Cannabis
Botanical Name: (Leonotis leonurus)
Family: Lamiaceae (Mint family)
Description: A small shrub 3-6ft tall that looks very similar to Hemp (Cannabis sativa), with stunning orange flowers that attract birds and butterfly's.
Ethnobotanical History: Wild Dagga is smoked by South African Tribesman for its euphoric and inebriating effects. It is often combined with Cannabis to potentate the effects of each. Dagga's effects are far more prominent when smoking in a social situation, making it a good smoke for partying or dancing. Wild Dagga has been used in traditional medicine to treat many conditions including fevers, headaches, coughs, female complaints and snakebites.
Active Constituents: Leonurine and similar alkaloids as well as many of the same terpenes found in hemp (cannabis sativa).
Recommended vaping temperature range: 150°C to 175°C (302°F to 347°F)
Warning: Smoking may be harmful or addictive. We recommend the use of a vaporizer (or tea) as a healthier alternative to smoking.
Shipping restrictions: We can not ship this product to the US state of Louisiana.